Query: Scenes from Roman life found 8 results
I'm feeling a bit stir-crazy as my blessed knee is still cramping my style more than somewhat. More than two months now since whatever it was, and during that time I've discovered that anti-inflamatories (diclofenac) help with the pain, but also encourage me to get out and walk, which doesn't help w...
---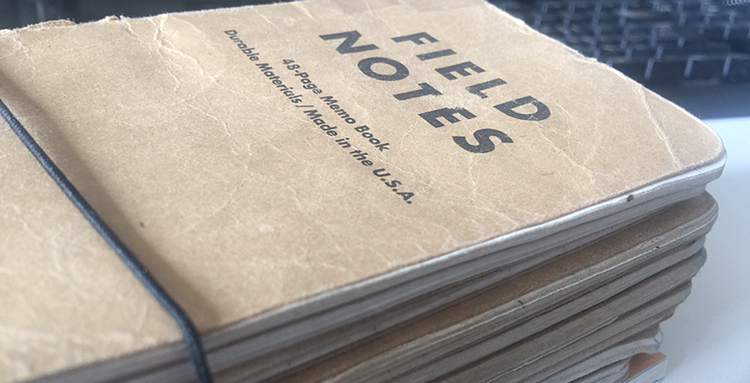 My friend Jason observed,
, that a stranger in a strange land often writes, daily even, about "about all the new and interesting things that caught his eye". Over time though, and so partly as a result of familiarity and partly as a result of other things b...
---
Romans in general don't seem to be big on charity shops, or second hand. Of course, the Church is the charity, and there are big yellow bins on the streets that harvest used clothing for redistribution. For non-clothes, however, there's not much in the way of options to recycle. There is, howev...
---
Gave up my World Cup virginity in the nicest company, and there was much whooping and hollering when Italy rammed one in in the closing minutes. The second, a lovely little chip over the goalie, made victory even sweeter. Cycled home through streets packed with flag-waving jubilation. The sight, ho...
---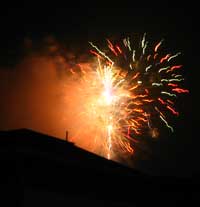 Sitting quietly geeking at my desk, 11 pm last Thursday night. It's been a quiet day, a Roman Holiday, SS Peter and Paul. We've been at work, though, because our gaff is outside Rome and has its own saints to take care of it. Boom! I've been watching season 2 of 24, and my instinct is to look butch...
---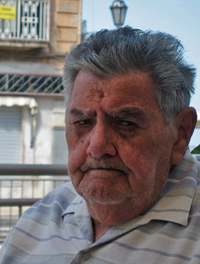 There's this old bloke at the table, mouth stoved in because he hasn't put his teeth in, unshaven. And he's picking carefully at his plate of orecchiette with their sauce of lovely fresh tomatoes, onions and rocket. He's moving the rocket, leaf by leaf, to the side of the plate.
"What are you doi...
---
Many of the more upmarket bars do a little free-for-the-taking spread of an evening, lest one drink without something to nibble. I was hungrier than that. But it was late in the day, and the selection of sandwiches was not great. I lit on one of -- surprise -- mozarella, prosciutto and tomato, and o...
---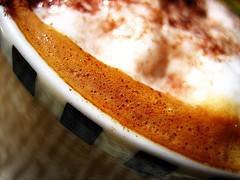 7:43 am. I am standing at the bar, doing a cappuccino and cornetto. In walks the milk delivery man. Short, wiry, sparse sandy hair and blue eyes. Not very Italian, if you get my drift. He's lugging two crates full of milk. His truck is parked outside. Double parked, obviously. He drops the crates...
---